All around the World, Tonsley Totty are cropping up. Help us gain global domination: let us know where you are off to and when you want a shirt sent to you by using the form below.

Simply hover over the balls on the map below to view our album of the world's finest, the Tonsley Totty.

And yes, finally, after months of development, Woolfy got his revolving globe... For, while the British Empire may have shrunk into a poxy little island in the North Atlantic and the BBC have withdrawn their global image and resorted to hot air balloons and naff dance routines, at Tonsley Events we still think big. Indeed, only the Romans conquered more countries, and even they couldn't take Scotland. The Romans have gone, but our growing force of Tonsley Totty crusaders are still at it. And so the globe spins.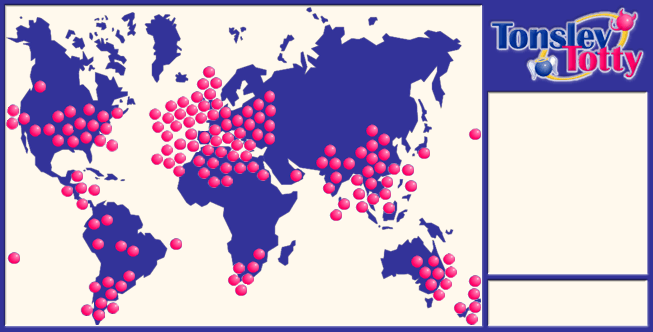 Hover over the balls to preview the Tonsley Totty.

Click the ball to see the complete picture.

Best Served Thrilled
Totty on Tour:
Ten Years of Tonsley Totty!

The following are currently trawling the Globe donning their Tonsley Totty T-shirts, spreading the good news and extending our global exposure:

| | | |
| --- | --- | --- |
| | George | Prague |
| | Joelle | Tenerife |
| | Siobhan | Spain |
| | Jo | Malta |
| | Sarah | Brunei |
| | Jane | Mexico |
| | Maureen | Las Vegas |

As part of the Tonsley Ten celebrations, we have gathered all 150 plus Tonsley Totty pictures onto one big poster. Click on the image below to explore the globe:
If you'd like to join the growing army of Tonsley Totty, please fill out the form below with your proposed location and approximate date of travel: